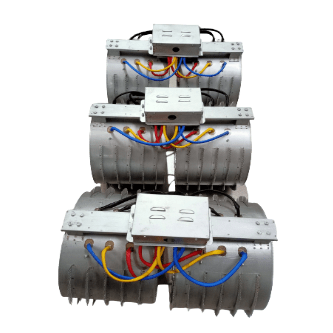 Deep Heaters is the Best Ceramic Band Heaters Manufacturer & Exporter in India. Ceramic band heaters are designed with spirally wound inner resistance coils evenly threaded through interlocking insulated ceramic "tiles". The ceramic core, or "mat" of tiles is housed beneath a stainless steel sheet with serrated edges. The notched edges fold over to secure the ends and a protective inner liner (to be removed at installation) secures the placement of the tiles. This combined assembly of the Ceramic Band Heater offers a flexible heating system that yields efficient transmission of conduction and radiated heat. The heat of the Ceramic Band originates from the inner coils that conduct heat at maximum temperatures.
The heated coils of Ceramic Band Heater evenly deliver heat through the ceramic tiles which radiate energy to the barrel. We offer a variety of Ceramic Band styles from standard to custom configurations.
Ceramic Band Heater Capabilities and Benefits:
Ceramic Band Applications:
Extruders, Injection molding machines, Blown film dies, and other cylinder heating applications.
Stainless Sheath-
AlthoughSS 304 stainless steel is also an option depending on application requirements, we typically use aluminium coated sheath for oxidation resistance in a variety of environments.
Screw Terminal-
 Screw terminals for maximum amperage carrying capacity and a firm connection with the winding.
Terminal Box-
Toshield terminals from spillovers and leaking and to safeguard against exposed terminals. Various terminal types are used, including SS bolded terminals and crimp on lead ceramic connector types with copper lug crimping.
Resistance Wire-
Resistance wire made of 80/20 nickel-chrome and copper is uniformly coiled for long heater life.
Ceramic Fiber Insulation-
Because they can tolerate high temperatures, ceramic fibres are employed as insulation materials.
Ceramic Nuckles-
High purity aluminumoxide ceramic knuckles having maximum dielectric strength and thermal conductivity and finely compacted for maximal heat transfer were selected for the winding process of the heating element.
Pros of mica bands over ceramic bands are as follow:
Mica 
bands 
can 
look 
superior 
at 
first 
glance, 
but 
it 
is 
hard 
to 
overstate 
what 
simple 
it 
is 
to 
install 
ceramic 
bands. 
Machines 
often 
deteriorate 
with 
use, 
their 
surfaces 
become 
rough, 
and 
this 
might 
result 
in 
faulty 
installation 
(air 
pocket 
between 
the 
band 
and 
the 
barrel). 
Poor 
contact 
with 
the 
heat-producing 
surface 
is 
the 
result. 
Such factors decrease the heat transfer and operating life of mica bands but have next to no effect on ceramic bands that really are heating in the air.
At first glance, Ceramic Band Heaters Manufacturer, but the ease of installation of ceramic bands cannot be overstated. Over time, machines often become dirty and damaged, the surface becomes rough, which can lead to improper installation (air pocket between the band and the barrel). The result is poor contact with the surface to heat. Those factors reduce mica band heat transfer and operating life, but have next to no effect on ceramic bands which are heating the air.